The Humble Table Lamp
...it all started with a bright idea
---
The humble table lamp…where would it be without the light bulb? Well, quite frankly, it would still be in the dark. In just over 150 years, we've gone from candlelight and oil lamps to gas lights to electric lights. And it all started with a bright idea.
So, who invented the light bulb? Most people would probably say Thomas Edison, and they're not completely wrong, but Edison was only one of several inventors working on electric light at the same time. William Sawyer and Albon Man's patent for the incandescent bulb was filed a year and a half before Edison filed his patent. The similarities landed them in court where they decided to resolve the lawsuit by merging their companies to form General Electric.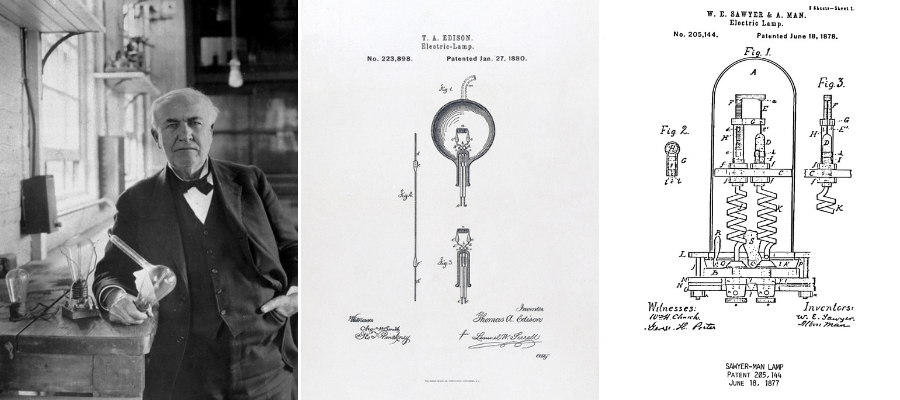 The light bulb has already seen amazing evolution including the incandescent light bulb, the tungsten bulb; fluorescent bulbs; halogen bulbs; and the red light-emitting diode which lead to the LED bulbs we use today.

Source
Edison may have given us the light bulb, but in 1931, George Carwardine invented a strange looking lamp he called the Anglepoise and the table lamp was born. Since then, designers have interpreted this classic design in a variety of ways. Here's an industrial styled Steampunk version we sell for $198. Pixar even used the articulated table lamp in an animated short film and eventually adopted it as their primary mascot for Pixar Animation Studios.

Center: Southeastern Salvage Home Emporium Steampunk Lamp $198
Lamps and lighting are a multimillion dollar business in the United States and lamp designers compete for their piece of the pie. Well known celebrities and couture designers look for innovative lamp designs to get buyers to spend obscene amounts of money, but you can get the look for so much less by shopping with us.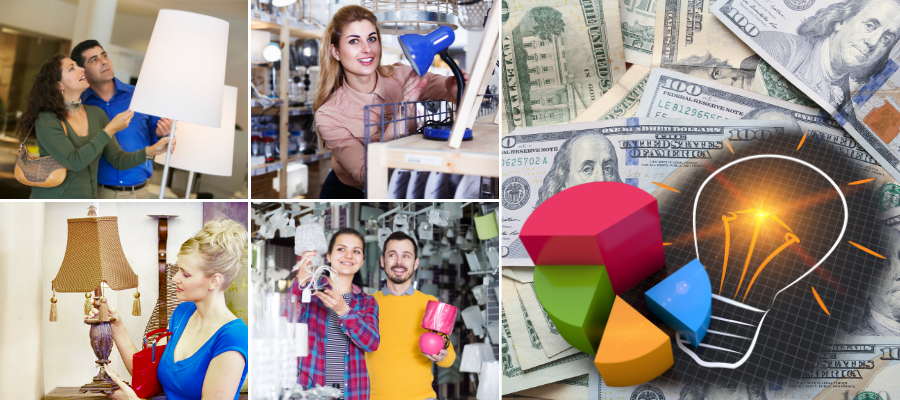 If you've seen the Paco Large Table Lamp by AERIN, granddaughter of Estée Lauder, you know it sells for $779 to $819 on sites like Houzz and Foundry Lighting. We have a similar 29 inch tall Pebble Lamp that we sell for only $88. You can get the same look for hundreds of dollars less, and ours comes in 10 colors. The organic shape is eye-catching. Use one on an end table as a statement piece, on a nightstand, or as buffet lighting.

Pebble Lamp in Red, Black, Grey, Turquoise, Cobalt Blue, White, and Autumn with White shades,
Black with Black shade, Grey with Grey shade, and Red with Red shade
Another organic modern option is our Cantilevered Lamp. It was inspired by the Enoki Lamp which is, in turn, inspired by the East Asian enokitake mushroom. You can buy the Enoki Lamp for $550 at Unison Home or you can save money and pay $88 for our Cantilevered Lamp and choose from 9 colors. Use them on matching end tables or use one as a focal point that will steal the show.

Cantilevered Lamp in Cobalt Blue, Autumn, Turquoise, Grey, White, and Black with White shade,
Black with Black shade, Grey with Grey shade, and Red with Red shade
Is sleek and streamlined more your style? Our Tapered Floor Lamp and matching Tapered Table Lamp will fit right in. The shape is similar to the $750 Trilogy Floor Lamp sold by Burke Décor and Scenario Home, but our shades are wider and they come in 4 colors. No doubt our prices will delight you - $98 for the Floor Lamp and a special price of $59 for the Table Lamp. Use the floor lamp beside a sofa or in the corner of an entertainment room as supplementary lighting, and balance your lighting scheme with the matching table lamp.

Tapered Lamps with Black, Grey, Red, and White shades
With the industrial styling trend in full swing, we just couldn't resist these quirky lamps. Can you imagine waking up every morning to these characters? They'll put a smile on your face and get your friends talking. All 3 of them combine style and attitude for a spectacular effect. The headlight shines brightly and is perfect as a bedside reading light or an accent light anywhere you want to get a conversation started. We sell them for $108 and $128, but they are truly priceless.
Quirky Character Lamps: Sitting $128, Reading $108, Standing $128
And if you love industrial styling, we have a pendant light suspended from a motorcycle shock that will get you revved up. We originally had it made in Black and it was so popular at $88, we decided to make it in Gunmetal and Rust colors as well. You won't find this light anywhere else. We've looked! Pendant lights like these are great for kitchens and dining rooms.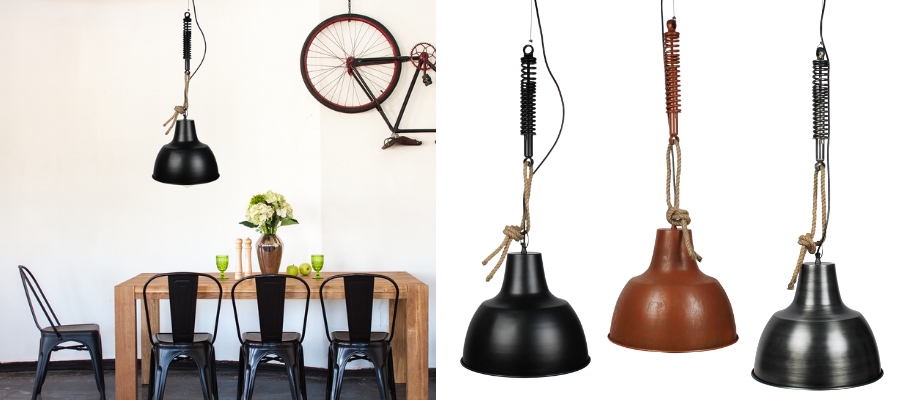 Motorcycle Shock Pendant Light in Black, Rust, and Gunmetal
Whatever your personal style, lamps will always shed light on your space. Show us what you've done to brighten up your life on Instagram at @southeasternsalvage or on Twitter at @SESHomeEmporium
Click Here to see more lighting options.
---