Looking for a Great Place to Work?
It's All About Relationships
---
According to the Bureau of Labor Statistics and the United States Department of Labor, the national unemployment rate is only 3.9% as of December 2021; however, there are still 6.3 million people unemployed. If you happen to be one of the unemployed, your opportunities for employment have decreased in some ways with so many companies downsizing or closing completely. So why does there seem to be a Help Wanted sign on almost every business?

Many of these job openings are low-paying jobs with no benefits. Some have unpredictable or less than worker-friendly hours and scheduling. And most do not offer long-term stability.

Why is Southeastern Salvage Home Emporium different and what makes it a good place to work?
Evelyn Porter has worked at our Chattanooga, Tennessee store since April of 2003 and heads the Furniture department. If you've been to our store, you've probably seen Evelyn. She says the best part about working here is getting to know the great customers. "They come in and ask about our products and as you walk around the store with them, you get to know them. When they come back, they always stop by and say hi, even if they aren't shopping my department that day. It's almost like having an extended family".

During the pandemic, people have reevaluated their self-worth and value. We appreciate that and offer a starting pay of $12 to $15 an hour depending on experience. If you come with a lot of experience, your starting pay could be even higher. Now you might be thinking that $12 an hour is not a lot of money, but when you consider that minimum wage in the states where our stores are located is still $7.25 to $11 per hour, $12 to $15 starting pay doesn't sound too bad.
But what's even better is we offer profit sharing. Less than 25% of companies in the United States offer profit sharing and we're pleased to be one of the companies who do. We recognize that our staff directly contributes to the company's overall profits and we reward their hard work. Employees can make an extra 3-20% increase in their monthly pay just for doing their job. Some months it could be even more. The more the store makes, the more the staff makes. And you don't have to wait until the end of the year for your profit sharing because we pay it monthly.
Jessie Hanke adds, "As a mom, I love the flexible hours. I used to work in a factory and if one of my kids got sick, I couldn't leave the line. Here management is willing to work with me so I can take care of my kids the way a mom should". Jessie has worked with us since 2017 and is now head of the Door Shop in Chattanooga. Yes, a woman runs our Door Shop! We really are an Equal Opportunity Employer.
What about health insurance? We offer BlueCross BlueShield of Tennessee Medical Insurance to full-time employees and we even pay 68% of the premium, making it incredibly affordable. Many companies make you wait 90 days after you've been hired, but our insurance starts after 60 days. We also offer Dental and Vision insurance with Guardian, again most of the premium being paid by us. And we provide Basic Life and AD&D (Accidental Death & Dismemberment) insurance with $30,000 of coverage at no cost to our employees.
Are there any other benefits? How about a 15% employee discount on store merchandise. Not to mention that you're seeing new merchandise as it arrives so you get the opportunity to buy it first. And since our regular retail prices are so low, a 15% discount makes the price even better.
As important as money and benefits are to some people, often it's the lovely intangibles like opportunities for advancement and being part of a team that are just as important. Craig Bygate, who's been our store manager in Columbia, South Carolina since 2015, says "I listen to my employees. I ask them for feedback and I value their input". Craig makes sure all his employees are fully trained and that they understand they have the full support of management if they need something. The Columbia store has very little turn over because of the strong team Craig and his staff have built.
Craig mentioned a customer who came up to him the other day. "She said she was only buying one item, but on her way to the register, she was asked by 6 different employees if there was anything they could help her with. She was so impressed with their friendliness and sincerity, she felt guilty she wasn't buying more that day. It made me incredibly proud of my team".

Although we have over 200 employees, we are not run like a large corporation. The owner, Bubba Morgan, believes in running the company like a small business. He's active and hands-on with daily operations and is on a first name basis with his entire staff. There is open communication between buyers, the marketing department, the warehouse, and the stores, and suggestions and insights are always welcome.

We like to create a fun atmosphere to work in and build team spirit by hosting in-store contests that win the stores lunch, store gift certificates, and sometimes even cash bonuses. And year after year, our customers have rewarded us with Best of and Favorite Store awards through various magazines, newspapers, and TV stations, not to mention all the awards we've won at Home & Garden Shows for our elaborate booths.
Judy Farnsworth works various departments in our Springdale, Ohio store just north of Cincinnati, including Furniture, Rugs, and Domestics. Judy has been with us since 2010 and loves doing displays. "The contests we do are so much fun because we get to be really creative with our store displays. I just love finding the perfect place in the store for a particular piece of furniture and then decorating it with interesting stuff I've pulled from other departments". She adds, "I also love being able to show customers how our products can look in their homes".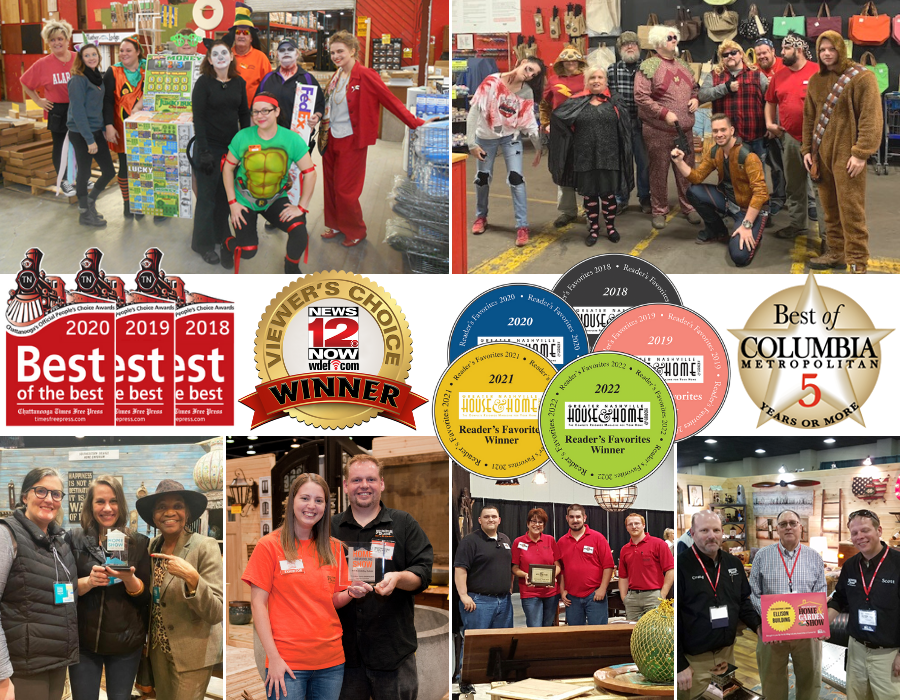 Of the 230 employees who currently work for Southeastern Salvage, Home Emporium, or the corporate office, many have worked for the company for decades. And many have started on the sales floor and worked their way up to department heads, management, and even corporate buyers because they worked hard and were rewarded for their efforts. We are a company who invests in our staff and we want to see you prosper and grow. We strongly support continued education and offer flexible hours to employees who are in school or want to go back to school. There is strong loyalty and longevity here, whether you work full time or part time.

CJ Chetney needed to move from Nashville, Tennessee to Mobile, Alabama to be closer to his aging parents. Luckily we have a store in Mobile and he was able to transfer with the company almost immediately. He moved with a job and we didn't lose a great employee. CJ is one of our assistant managers and has worked with us since 2010. He says one of the things he likes the most about our company is the open-door policy. "When I need something, I can call who I need to talk with directly. There isn't a bunch of middle management slowing things down".
And there is new growth potential as we open new stores in new cities. Although Anthony Morris has only been with the company since April 2017, he recently transferred to our Greenville, South Carolina store and was promoted to store manager. The company even gave him moving expenses to help him get set up in his new home. Anthony says, "Working for 4 years under a strong manager like Rick Liska in Mobile prepared me for this new challenge. I was Rick's assistant manager and he treated me as an equal, sharing full manager duties with me. He really gave me the confidence to step up and move forward".

"What I really like about this company is the freedom I have to run the store as my own", Anthony continues. "I've worked at various big box stores and they oversee everything. It's very stifling. Here I feel a sense of ownership, like what I do really makes a difference in the success of the company as a whole, not just my store".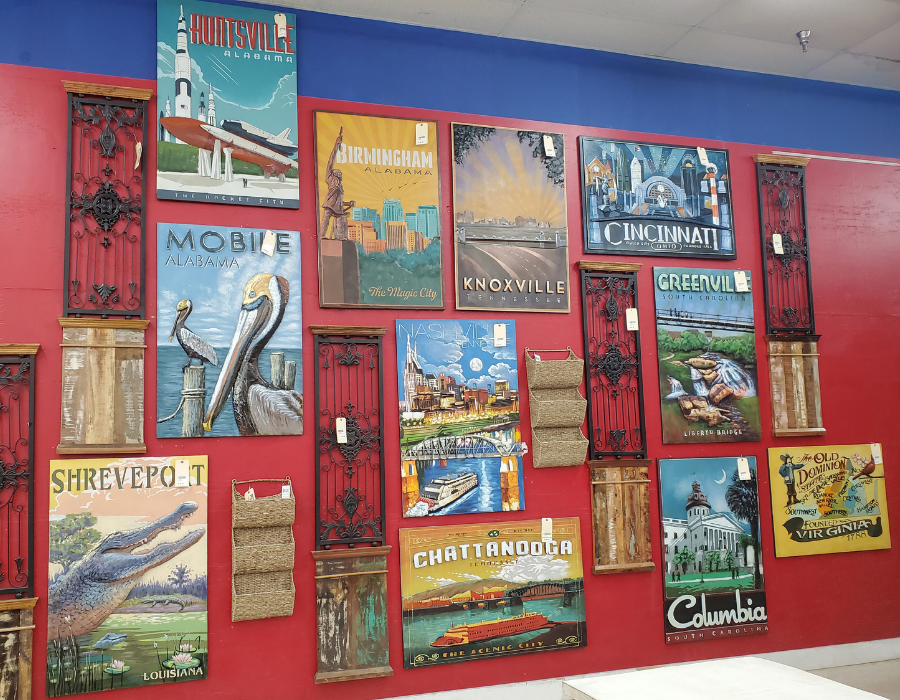 Training goes far beyond product knowledge and customer service, although those are the backbones of our company. Are you good with math? Our Flooring department and Kitchen & Bath department utilize math skills every day. And you can learn how to design kitchens with our ProKitchen design software. Are you more hands-on? Perhaps you'd like to learn how to drive a forklift or operate a scissor lift. We'll train you to do that.

What about learning how to use an embroidery machine or a laser etcher in our Monogramming department? Okay, we only have a laser etcher in our Chattanooga store, but all our stores have embroidery machines. Bet you never thought working in a retail store like ours would give you the opportunity to learn monogramming. How cool is that?
"My job is never boring because we all wear a lot of hats here and work in a lot of the departments", points out Shannon King. "It keeps it interesting". Shannon has been with us since 2017 and is head of the Domestics department at our Huntsville, Alabama store and she's also a monogrammer. "What I really love about monogramming is how creative it is. I love helping customers plan their special day by monogramming something like bridesmaid gifts or a baby blanket. It makes me feel really close to our customers".

Have a knack for making things grow? We have a Garden Center in each store where we sell a variety of live plants, flowers, and trees. You don't have to be a horticulturist to work in our Garden Centers, but you'll learn a lot about plants while you're here.
Katie Carter is head of our Garden Center in Knoxville, Tennessee. She started with us as a cashier in 2020 and has already advanced to being a department head. "What I love most about working in the Garden Center is being outside and watching things grow. I really enjoy working with our customers and seeing their excitement as they discover all the plants and pots we have", she says. "I also get so much satisfaction designing garden displays with fountains and plants and pots and outdoor furniture. It really shows customers how beautiful even a small patio area can be".

And if you really like working with your hands and live in the Chattanooga area, you could learn woodworking in our Door Shop, customizing and framing doors for customers and sometimes repairing wood and metal furniture. Frank Nolze, our Chattanooga store manager, says "we don't let anything go to waste if we can help it. It's good for the environment, and it's good for our bottom line".

Frank knows the Door Shop well. Since starting in 2000, he's worked his way from a sales associate building mirrors in the Door Shop to the department head of the Door Shop to warehouse manager, associate store manager, assistant manager, and finally store manager. "I had a goal to advance as far as I could and I've achieved that goal", he says.
Frank's store also has a great track record for longevity of staff. The majority of his staff have been with the company for at least 3 years and over half of them have 5 or more years under their belt. Some have even worked here for more than 10 years.
Peggy Rhymer, a cashier in our Chattanooga store, started in October 2021 and noticed right away how different our stores are to work in. "I've never worked at a place that felt so comfortable, like family", she says. "Everyone works together and it's refreshing".

Are you looking for a place to work that feels like home? A place where you are respected and where your opinion matters? A company who actually promotes from within? What are you waiting for? Come join our team and become part of the Southeastern Salvage Home Emporium family.
Click Here to see what jobs are currently available.
---